Simulation
Computer Aided Engineering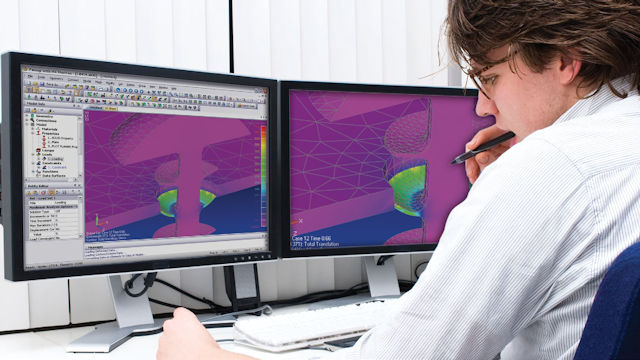 Simulation
Simcenter 3D, from Siemens Digital Industries, is 3D CAE for the digital twin. It delivers a unified, scalable, open, and extensible environment for 3D CAE with connections to design, 1D simulation, test, and data management.
Simcenter 3D provides best-in-class geometry editing, associative simulation modeling, and multi-discipline solutions embedded with industry expertise. Fast and accurate solvers power structural, acoustics, flow, thermal, motion, and composites analyses, as well as design space exploration and multiphysics simulation.
Simcenter 3D provides benefits such as:
Faster CAE process – an integrated environment for pre- and postprocessing.
Multidiscipline integration – Simcenter's 3D simulation solvers help you to predict real-world performance for a large variety of physics domains.
Open and scalable – in addition to own solvers NASTRAN, Simcenter 3D supports third-party solvers.
Tied into the digital thread – Simcenter 3D is part of the Simcenter portfolio of simulation solutions.
If you have Solid Edge today, Simulation capabilities may be only a click away
Robust simulation for everyone, with the capabilities you need to suit your analysis requirements, from basic digital validation and finite element analysis (FEA) to fully embedded computational fluid dynamics (CFD).
Accelerate the speed of simulation studies with automated processes that validate design performance. Solid Edge simulation capabilities help you digitally validate your designs and build better products in less time, by frontloading the simulation process.
Solid Edge Simulation: Built-in finite element analysis (FEA) allows you to digitally validate part and assembly designs within the Solid Edge environment.
Simcenter FLOEFD for Solid Edge: Front-load computational fluid dynamics (CFD) analysis or move simulation early into the design process.
Simcenter Flomaster for Solid Edge: Fast, flexible, and accurate thermofluid systems modeling, including flow velocity, temperature, and pressure drop.
Add Simcenter simulation for NX to your NX Design installation
If you have NX CAD today, you can embed simulation packages to get immediate feedback on performance and limit the number of prototypes.
This integrated CAD/CAE is a combination of NX and Simcenter simulation technology. The design team can use it for conceptual and detailed design work, and the types of simulations that can be run can be controlled.
If you work in an environment with CAD experts and CAE experts this could mean that the CAD team would execute and automate analyses that are routine or recurring, having the expert CAE team focus on more complex tasks.